Searching for Sarah
(
The Sarah Series
#1)
Julieann Dove
Adult Contemporary Romance
Paperback & ebook, 333 pages
April 27th 2017
The first in a three book series called Searching for Sarah. Come meet Sarah and begin her journey....
Sarah Keller is convinced that her Mr. Right is stuck in traffic…in another country…on another planet. 'Thirty-one and still single' isn't how she wants to be introduced by her dad. That's why she's on five dating websites, posing as anything from an avid gardener to a crazed thrill seeker.
Sam Turner is a single dad, workaholic, who owns his own company. Long-term relationships have never worked out for him. That's why he needs a nanny.
When a mutual friend suggests Sarah take the job temporarily, everything changes for them both. Sarah begins falling for the man who meets almost none of her online criteria. And when strange things start happening—things that jeopardize the safety of Sarah, Sam is the last person she would imagine is hiding something.
Goodreads│Amazon│Barnes & Noble
EXCERPT:
He turned off the car and parked where he usually did. I opened the door and bent forward, running against the rain falling on my head. Suddenly, I felt Sam's hand touch my back, guiding me toward the back door. I stopped, looked up, and closed my eyes. The rain felt like BB pellets smashing against my face as they picked up speed and weight. I let it pelt my head; water crawled through my scalp until it was soaked. My red gown grew heavy, and I loved every minute of it. It'd been a long time since I danced in the rain.
Sam yelled out, hunching over, "Are you insane, Sarah? Get inside. You'll drown."
"I don't care. It's wonderful." The noise was loud as it pinged off the car, the railings, and my head. I stretched out my arms and let the water pour over me.
"You're crazy." Sam squinted from the rain hitting his face. Water dripped from his lips and his eyelashes.
"Dance with me, Sam." I took his hand and twirled toward him.
He laughed and caught me. "So you weren't lying about the dancing in the rain, were you?"
"Nope." I twirled out and laughed.
"Come on, Tiny Dancer. Let's get you inside before we drown."
We rushed up the stairs to the door and fell inside, laughing. Sam brushed off the water that dripped from his hair. My dress clung to me like a wet sock, and my hair stuck to my forehead and dangled in front of my eyes, weighted by the water. I began to shiver.
"I'll go and get you a towel." He looked at me and reached out to touch my face. "Here, you have a hair trapped in your eyelash."
"I've got millions of hairs trapped in my—"
Before I knew what was happening, Sam leaned in, almost as if he were going to kiss me. Then he stopped. Cold turkey. Hand not moving. Eyes not blinking. I wasn't sure, but I think I stopped breathing. His face slowly moved closer to mine, his eyes magnetically pulling him. I quickly took one giant step backward. My legs knew something my brain didn't.
"Sam, we can't."
He straightened slightly, one eye cocked. "Why not?"
"Um…" I swallowed hard, pretty certain he could see my throat do that elevator thing. He was that close still. Let me see. Give me a minute, I'd think of something brilliant. Something obvious. Something completely overlooked by the one looking. Something! Anything!
"We can't because it's just not right." Brilliant!
"For who?" His lids seemed heavy. He had that drunken-with-desire look going on. Which made it incredibly difficult to ward off any kind of anything he was trying, without a circle of salt and a clove of garlic.
"For us. I'm your nanny. Well, not your nanny, but I work for you, and I have a strict rule about not getting involved with my employer. I mean, look at Tony." My head shook nervously. "That could've ended in a real disaster. I might not have been able to take you there tonight, or ever enjoy that wonderful sauce. Because, well, it would've gotten complicated."
"I'm not Tony, and I have absolutely no cooking skills at all. Potential problem solved." He moved closer. As close as perhaps a dentist or hygienist might come, only they're holding tools. Sam only had those bedroom eyes and wet-looking lips. Not to mention his woodsy cologne had formed a coalition with the rest of the stuff he had going on, and before I knew it, my hormones were under attack.
Julieann Dove
lives in Virginia, yet longs to live everywhere else. It doesn't come as a surprise that along with her gypsy soul, comes an active imagination. That's why she loves to write and invent worlds and people, so that she can formulate their happily ever after. Hobbies include cooking new recipes, sewing, and spending time with her cute boyfriend/husband and five fabulous children. Vacations happen in Nantucket or the Carolina beaches—anywhere there is inspiration for her next book. One day she hopes to travel to Italy, drive one of those little cars around the countryside, and speak the language fluently!
Other Books by the Author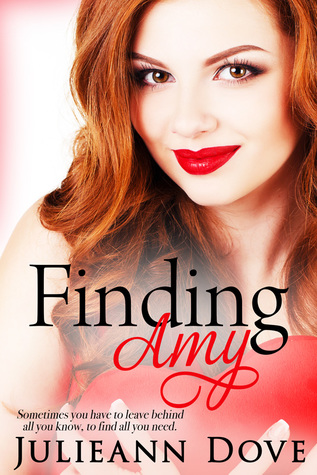 - 1 winner will receive a signed copy of Waking Amy (US only)
- 1 winner will receive an ebook of Waking Amy (open internationally)
- Ends May 9th