On Tour with Prism Book Tours

***Premiering as Sweetest Heart on the Hallmark Channel March 17th 9 PM ET***
(check your local listings for your air time)
Heart's Desire
(Shores of Indian Lake #2)
Catherine Lanigan
Contemporary Romance
Paperback & ebook, 191 pages
August 1st 2014 by Harlequin Heartwarming
Goodreads
│
Amazon
│
Barnes & Noble
│
Harlequin
His homecoming is bittersweet…for both of them
Café owner Maddie Strong is finally ready to take her burgeoning cupcake business to the next level. With the help of handsome businessman Alex Perkins, her future's all mapped out. Until her first love comes home.
At seventeen, Maddie adored Nate Barzonni with her whole heart and soul. But when he asked her to elope, she'd said no—she couldn't let him throw away his dream of becoming a doctor. Then he vanished from her life for eleven years. Now the cardiac surgeon has returned to Indian Lake asking for a second chance, and Maddie has to choose between her new life…and the man she never stopped loving.
EXCERPT:
Maddie walked into the main showroom and up to the front window where there was a step-up round riser. She lifted her skirt and heard the swishing of all the underskirts and the peau de soie next to the horsehair net. She stood still and looked at herself in the two cheval mirrors. The gleam of the light from the crystal chandelier overhead pirouetted off the crystals in the dress.
Mrs. Beabots clasped her hands together and brought them to her smiling lips. "You are a vision for my eyes, my dear!"
Sarah was dumbstruck and could barely speak. "It's you, Maddie. The dress is like the angels made it for you."
"I can't deny I feel like Cinderella," Maddie said, admiring herself once again, still not believing her own reflection. Maddie turned back to Sarah. "But I thought it was perfect for you."
Mrs. Beabots and Sarah stared at Maddie and allowed her to revel in the moment.
"Let me see the back," Sarah said.
"Oh, I just love the little bow and nosegay," Maddie said, turning toward the front window.
Maddie stared. Then she blinked. Twice.
At first, she thought her eyes were playing tricks on her. She peered into the darkening day.
There, underneath the black, wrought-iron Victorian street lamp, the evening fog drifting along the sidewalk, stood Nate. He looked directly at her, and when their eyes locked, he smiled.
Her heart thrummed in her chest and she could feel a pounding of hot blood at her temples. She felt dizzy for a moment, but steadied herself by using the mind-over-matter techniques Sarah's uncle George had once taught her.
In the eleven years since Nate had abandoned her, Maddie had not had a single boyfriend. She had dated a few men here and there, but all her energy had gone into her business. She had convinced herself that she was strong and willful, that she owned her own power. She firmly denied and crushed any idea that she might fear being rejected again by a man, especially Nate, and moved on. She purposefully fanned and fueled the fires of her anger against Nate to mask even the tiniest possibility that she still had any feelings for him. Maddie didn't dare think about Nate and love in the same thought. Such musings could lead to her ruin. For eleven years, Maddie had told her friends over and over that Nate Barzonni was the devil to her.
Maddie continued to stare at the vision outside the window.
If it was at all possible, Nate was more handsome than ever, with a man's face and a man's physique under a double-breasted black wool coat. His dark hair was worn shorter than she remembered, but still parted on the right side. He wore a grey, black-and-white-plaid scarf around his neck, and suddenly she realized it was a scarf she'd bought for him their last Christmas together, in his senior year of high school. His hands were shoved into the pockets of the coat, and he did not raise one to wave to her.
He only stared.
She was spellbound.
There was no way Nate was actually standing outside Bride's Corner. No way.
Until today, she hadn't thought about Nate in months. Okay, weeks. After more than a decade, she could now go a full two, sometimes even three, weeks, and never actually think about him, wonder about him, curse him, rail against him and the cruel, heartless fates that had brought them together in the first place. Maddie closed her eyes and opened them again.
Nate was gone.
Other Books in the Series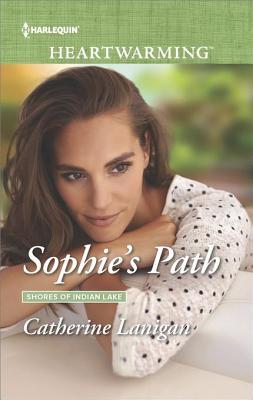 About the Author
Catherine Lanigan
is the international bestselling and award-winning author of over forty-five published titles in both fiction and non-fiction, including the novelizations of
Romancing the Stone
and
The Jewel of the Nile
. Ms. Lanigan's novels have been translated into over twenty-four languages. Lanigan was tasked by the NotMYkid foundation to pen a collection of compelling and informative true stories of teen addicts. Ms. Lanigan's SHORES OF INDIAN LAKE series for HARLEQUIN HEARTWARMING includes LOVE SHADOWS, HEART'S DESIRE , A FINE YEAR FOR LOVE, KATIA'S PROMISE, FEAR OF FALLING, SOPHIE'S PATH, PROTECTING THE SINGLE MOM, FAMILY OF HIS OWN, HIS BABY DILEMMA, TOO CLOSE TO THE FIRE (2018) and MY RACING HEART (2019).
The Hallmark Channel will air HEART'S DESIRE on March 17, 2018.
Ms. Lanigan is a frequent speaker at literary functions and book conventions as well as inspiring audiences with her real stories of angelic intervention from her Angel Tales series of books. She is an outspoken advocate for domestic violence and abuse and was honored by The National Domestic Violence Hotline in Washington, D.C. She has been a guest on numerous radio programs including "Coast to Coast" and on television interview and talk show programs as well as blogs, podcasts and online radio interview programs. She writes a monthly blog for Heartwarmingauthors.blogspot.com. Visit her at
www.catherinelanigan.com
, on Facebook, LinkedIn,
Twitter@cathlanigan.com
, Pinterest, Goodreads and Google+.
Tour Schedule
March 5th:
Launch
Reading Is My SuperPower
It's All About the Romance
Busy Bumble Bee Book Reviews
March 6th:
Mello & June, It's a Book Thang!
The Power of Words
Heidi Reads...
March 7th:
Remembrancy
I Am A Reader
March 8th:
Christian Chick's Thoughts
Nicole's Book Musings
March 9th:
Rockin' Book Reviews
Hearts & Scribbles
Thoughts of a Blonde
March 12th:
Book Reviews & More by Kathy
Paulette's Papers
underneath the covers
Katie's Clean Book Collection
March 13th:
Among the Reads
Wishful Endings
March 14th:
Inside The Mind of an Avid Reader
Faithfully Bookish
Locks, Hooks and Books
March 15th:
Brooke Blogs
Janice's Book Reviews
March 16th:
Teatime and Books
Cafinated Reads
Becky on Books
March 17th:
Grand Finale
Sweetest Heart on the Hallmark Channel 9 PM ET
Tour Giveaway
1 winner will receive a $50 Amazon eGift Card
Open internationally
Ends March