This is my stop during the book blitz for All That Matters by Tracy Krimmer. This book blitz is organized by Lola's Blog Tours. The book blitz runs from 23 till 24 October. See the
tour schedule here
.
All That Matters (All That #3)
By Tracy Krimmer
Genre:
Contemporary Romance/ Women's Fiction
Age category:
Adult
Release Date:
October 22, 2018
Blurb:
Dory Walker finally has both feet on the ground and looks forward to one thing only--becoming Mrs. Harris Malone. Her wedding is coming up, and she's put her music career behind her for good so she can focus on what's important in her life. Family comes first.

Harris Malone is getting used to his young daughter living over an hour away but now faces a new challenge--unemployment. With a wedding in a few months, he's in need of money, and he's not sure how he's going to find it.

But as Dory and Harris plan their happy future together, a trail of lies follows them. From secrets to hidden truths, every aspect of their relationship will be tested. Will they say "I do," or will a web of deceit force them into saying "I don't?"
You can find All That Matters on
Goodreads
You can buy All That Matters here:
-
Amazon
-
B&N
-
Kobo
-
iTunes
-
All vendors link
EXCERPT:
"How are you doing?" I rubbed Harris's arm, knowing the day had to be bittersweet for him. He didn't desire to take over the store as his dad had originally planned so it almost came as a blessing when Randy was forced to sell due to his debts. Still, Harris had spent the better part of almost a year mentally preparing for the takeover that now wouldn't happen.
"Okay. I'm not sure what tomorrow will bring, though. I came here to work almost every day for more than a decade. What am I supposed to do with myself?"
As much as I wanted to, I didn't have an answer to his question. I had a better idea than anyone what it meant to feel lost, and only over the past month and a half had I finally found myself. I thought I ached for a music career again but as I spent more time on stage, backstage, and on the tour bus I realized my life belonged in Sycamore Bay. My cosmetology degree was being put to good use at Lila's salon, and now with another stylist, Zoe, added to the payroll, business boomed. I made decent money in hourly and tips and my health didn't suffer because of it. In fact, I couldn't even recall the last time my endometriosis flared up.
"Give it time, Harris. You'll figure all of that out."
"Yeah, maybe." He touched his hand to my chin and tipped my face so I stared into his chestnut eyes. Wiping a stray brown hair away from my face and tucking it behind my ear, he added, "but we have a wedding to plan. I don't want to cut corners anywhere. You deserve your dream wedding."
How did I get so lucky as to be with a man like Harris? "I'm marrying you. That is my dream." It had been for years. I crushed on him through all of high school and once we shared a kiss I thought that was it. It wasn't though, and we went our separate ways. We'd found each other again, and I planned never to let him go.
He pressed his lips to mine and for a moment I forgot we were at the store. My knees weakened and my heart rate increased. He did that to me every single time.
"I see you two are still together."
We turned our heads and my throat dropped into my stomach when Mandy Glab stood in front of us, a half of a smile on her face. After six months in prison, I hadn't expected her beauty to overwhelm me. Before being sent away on vandalism charges—of Malone Hardware nonetheless—I'd never seen her without makeup, always looking perfect with every outline of her lipstick and stroke of her eyeshadow. Today wasn't any different. Her hair was longer now, and her skin was its natural tone, not the slightly bronzed look she borrowed from a bottle.
"What are you doing here?" Harris pulled me to him as if not doing so would cause me harm. "Part of your release is that you not step foot in this store—and it's still Malone Hardware for another few hours—and you aren't within five hundred yards of my father. Do I need to contact your parole officer?"
Barely out from behind bars and already she violated her parole. Mandy did whatever she wanted. That was a fact the entire community of Sycamore Bay knew.
All That Series Book Trailer
You can watch the book trailer for the All That series here on
Youtube
:
First book in this series
"A has-been country music star. A divorced dad from a small town. Almost a decade of bottled up passion..."
Links All That Glitters:
-
Goodreads
-
Amazon
-
B&N
-
Kobo
-
iTunes
-
All vendors link
"Can the bond between Dory and Harris survive these turbulent times?"
Links All That Doesn't:
-
Goodreads
-
Amazon
-
B&N
-
Kobo
-
iTunes
-
All vendors
About the Author:
Tracy Krimmer loves coffee, popcorn, Drew Barrymore, and the movie
Saving Silverman
. She enjoys reading great books (of course) and writing realistic characters for you to enjoy. When she listens to music she prefers the 80s and 90s music she grew up on. In a typical day you'll find her writing at one of her favorite spots--on the couch, at the kitchen table, or at her favorite hometown coffee shop.
You can find and contact Tracy here:
-
Website
-
Twitter
-
Facebook
-
Reader Group
-
Goodreads
-
Amazon
-
Bookbub
-
Instagram
-
Pinterest
-
Newsletter
Giveaway
There is a tour wide giveaway for the book blitz of All That Matters. One winner will win a $10 Amazon Gift Card.
For a chance to win, enter the rafflecopter below:
a Rafflecopter giveaway
This post is part of a virtual book tour organized by
Goddess Fish Promotions
. Debra Holt will be awarding a $10 Amazon/BN GC to a randomly drawn winner. Click on the tour banner to see the other stops on the tour.
Calla Rose returned home to McKenna Springs to help save her family's business... The Yellow Rose... a ninety-year old Texas dance hall. She also came home to heal. Being a victim and finding her trust level in men damaged, she is determined to succeed in this one thing for her family and nothing is going to deter her from doing just that. Now even a green-eyed cowboy/mayor with heart-stopping smiles and kisses that threaten to thaw the ice around her heart.

Ty Conners wasn't looking for love. He had simply stopped in to welcome the latest business owner to town. But coming face to face with Calla Rose would prove an unforgettable experience in more ways than one and send his heart into a tailspin. Never a man to not face a challenge head-on, he prepared to get past the barricades she had erected between herself and the male population. But it was easier said than done, and just when he's within reach of her heart, a lie brings memories of pain and distrust and Calla's heart may be out of his reach for good.
Read an Excerpt:
"You're right. It's the best offer. And I'll take you up on it." She placed her hand in his in order to get a hand up from the step. Mistake. His hand was warm, and the warmth seemed to flow up her arm and fill her with a sense of peace that was most disconcerting. Once on her feet, she gave a slight tug and he released his grip. Was she sorry? Silly thought. Her mind was just tired from the long and trying day. The fresh air would do the trick to put things in their proper perspective... including the man beside her.
A few minutes later, Calla felt the tenseness leave the neck muscles and the corners of her mouth curved upward of their own accord. The windows were down, and the pickup was making its way along the country lane as it followed the curves of the river, crisscrossing bridges from one side to the other as it went deeper into the tall canyon. The breeze ruffled through her hair. Here she was, taking a ride in a pickup, listening to a lively George Strait swing tune on the radio, and a good-looking cowboy beside her. If those people from her old life could see her now… would they think she had lost her mind? Did she think she had?
Or would they think she had finally found it? That sudden realization brought a strange feeling with it. If she didn't know better, she'd think she had finally found where she belonged. But that couldn't be… could it? The city life and a stately courtroom had been her mecca. How did things switch course in mid-stream on her? Calla's gaze went to the man beside her and just then, he turned and gave her a look and smile that answered her unspoken question. Silly! She jerked her gaze back to the open window. How could he know what she was thinking? When she wasn't sure of it herself?
About the Author:
Born and raised in the Lone Star state of Texas, Debra grew up among horses, cowboys, wide open spaces, and real Texas Rangers. Pride in her state and ancestry knows no bounds and it is these heroes and heroines she loves to write about the most. She also draws upon a variety of life experiences including working with abused children, caring for baby animals at a major zoo, and planning high-end weddings (ah, romance!).
When she isn't busy writing about tall Texans and feisty heroines, she can be found cheering on her Texas Tech Red Raiders, or heading off on another cruise adventure. She read her first romance...Janet Dailey's Fiesta San Antonio, over thirty years ago and became hooked on the genre. Writing contemporary romances, is both her passion and dream come true, and she hopes her books will bring smiles...and sighs...to all who believe in happily-ever-after's.
Debra invites you to visit her website. She loves to hear from other aspiring authors or readers via email. Twitter is and Facebook at . Website:
http://www.debraholtbooks.com
Email: debraholtbooks@gmail.com
Twitter:
https://twitter.com/DebraHoltBooks
Facebook:
https://www.facebook.com/DebraHoltBooks
Buy the book at
https://www.amazon.com/gp/product/B07FRKGCGW/ref=x_gr_w_glide_ku_bb
a Rafflecopter giveaway
Our Christmas Promise
Our Christmas Promise:
A Christmas Wedding Story
(12 Days of Heartwarming Christmas)
By Tara Randel
Contemporary Romance, Holiday, Novella
ebook, 129 Pages
October 9, 2018
Melissa Upton and Justin Caswell have been best friends since they were kids. Now, they're all grown up and things have changed, for Melissa at least. She's content running the family bridal shop, Candlelight and Lace. Excited about an upcoming wedding. She doesn't even mind attending weddings with Justin, until he dubs them wedding buddies. And now that he's back in Christmas Town, Melissa realizes she wants more. If she goes after her heart will she lose her best friend?
Justin is back home to take care of business for his estranged father while he recovers from a heart attack. He's launched his own successful career, is happy with his single status. Until he feels the distance Melissa has put between them. What's up with his best friend? The more time they spend together, involved in Christmas Town holiday preparations, the more he realizes she's hoping for more in their relationship. Can Justin see that being in love, and remaining best friends, is the best of both worlds?
Excerpt
Jaycee tossed a paper towel in the trash and met Melissa's gaze in the mirror over the sink.
"When are you going to tell him?"
"Tell who what?" Melissa asked as she dug in her bag for lip balm.
"Tell Justin you have feelings for him."
Melissa froze. Blinked a few times and glanced at Jaycee. "What are you talking about?"
Jaycee rested her hip against the counter and crossed her arms over her chest. "Don't play dumb with me. I see how you look at him, especially when he doesn't know it."
"He's my friend and I'm glad he's home."
Melissa shrugged and resumed her searching. "What more could there be?"
"There's nothing to tell."
"Then why don't you date?"
Melissa gripped the tube of balm in her fingers. "I date."
"Name the last time you went out with a guy."
She racked her brain but came up empty. "College, maybe?"
"That was six years ago."
"No...it can't be that long."
"Wait. I went out with Roger Pierce for a while."
"Until he moved away." Jaycee shook her head. "I'm telling you, you have it bad for Justin."
Did she? Did that explain the tingles she'd been trying to ignore? Or had she been without a significant other for too long now?
Slowly spreading the balm across her lips, Melissa met her own gaze in the mirror. Clear brown eyes peered back, but a rosy red had crept into her cheeks. She recognized the look, had seen it on dozens of bride's faces through the years.
Good grief, was she in love with Justin?
"Do you care for him as more than just a friend?" Jaycee asked when Melissa had been quiet too long.
Despite her words, Melissa flashed back to that Christmas Eve many years ago when they'd promised to be friends forever. How they'd carried through on the vow, remaining friends through high school and stayed in touch when he left Christmas Town for college. She understood why he didn't return, so she'd made sure to visit him in Boston. Once their friends had started to marry, meeting up at weddings had become their thing. But was that good enough for her now?
Tossing the tube back in her purse with more pressure than she intended, Melissa closed the bag. Pushed her unsettling thoughts away. "You're imagining things."
With a shrug, Jaycee pushed from the counter. "If you say so."
"I say so," she said, yanking the door open to return to the raucous, overcrowded pub.
About the Author
USA Today Bestselling Author Tara Randel has enjoyed a lifelong love of books, especially romance and mystery genres, so it didn't come as a surprise when she began writing with the dream of becoming published. Family values, mystery and, of course, love and romance are her favorite themes, because she believes love is the greatest gift of all. Tara lives on the West Coast of Florida, where gorgeous sunsets inspire the creation of heartwarming stories, filled with love, laughter and the occasional mystery.
Blitz Giveaway
1 winner will receive a $25 Amazon eGift Card
Jaclyn and the Beanstalk by Mary Ting
What fate awaits a girl who hears monsters at night…
Sixteen-year-old Jaclyn looks up to her father. An honest man who once fought for the king, he now teaches Jaclyn how to use her wits—and her sword.
But he has a secret. And his secret may have a connection to the one thing Jaclyn is hiding from him.
Upon hearing "monsters" are terrorizing the small villages around Black Mountain, Jaclyn's father and his friends head out to hunt them … but they don't return.
Author Mary Ting
International Bestselling/Award Winning Author Mary Ting/M. Clarke resides in Southern California with her husband and two children. She enjoys oil painting and making jewelry. Writing her first novel, Crossroads Saga, happened by chance. It was a way to grieve the death of her beloved grandmother, and inspired by a dream she once had as a young girl. When she started reading new adult novels, she fell in love with the genre. It was the reason she had to write one-Something Great. She also toured with Magic Johnson Foundation to promote literacy and her children's chapter book-No Bullies Allowed.
Website * Twitter * Facebook * Instagram
$50 Amazon Gift Card or Paypal Cash Giveaway
Ends 9/23/18
Open only to those who can legally enter, receive and use an Amazon.com Gift Code or Paypal Cash. Winning Entry will be verified prior to prize being awarded. No purchase necessary. You must be 18 or older to enter or have your parent enter for you. The winner will be chosen by rafflecopter and announced here as well as emailed and will have 48 hours to respond or a new winner will be chosen. This giveaway is in no way associated with Facebook, Twitter, Rafflecopter or any other entity unless otherwise specified. The number of eligible entries received determines the odds of winning. The giveaway was organized by Kathy from
I Am A Reader
and sponsored by the author. VOID WHERE PROHIBITED BY LAW.
a Rafflecopter giveaway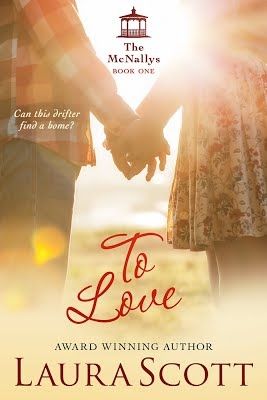 The McNally Series, Book 1
Date Published:
September 4, 2018
Publisher: Readscape Publishing
Meet the McNallys, an Irish family who learn to move on from their individual personal tragedies to fall in love.
Eager for a fresh start, Jazz McNally throws herself into renovating her grandparents' mansion in time for the grand opening of the McNally Bed and Breakfast. When vandals strike, she accepts help from drifter Dalton O'Brien. Dalton is willing to lend a hand, until it's time to move on. But when danger escalates, Dalton soon realizes that protecting Jazz is a threat—to his heart.

About the Author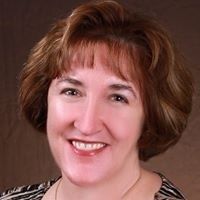 A nurse by day and an author by night, Laura Scott has written 50 books for Harlequin. To Love is the launch book in her new family series, The McNallys releasing on Sept. 4, 2018.